Manulife Financial's second quarter pace reflects NCV growth in the U.S. and Canada and rising book value (NYSE:MFC)
---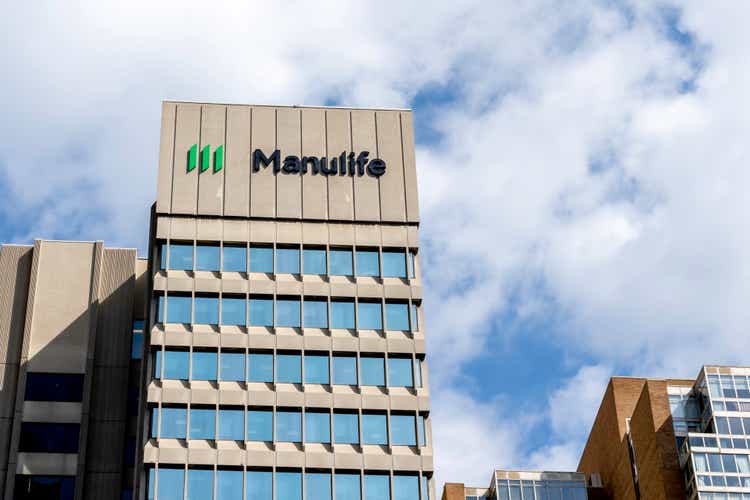 Manulife Financial (New York Stock Exchange: MFC) Stronger-than-expected second-quarter earnings on Wednesday were highlighted by combined growth in new business value in the U.S. and Canada as well as rising book value.
"Our global franchise is strong and resilient, as as evidenced by double-digit CNV growth in the United States and Canada on a combined basis, and core earnings growth in our insurance businesses in Canada and the United States, which reduced the impact market and pandemic-related headwinds elsewhere," said CEO and Chairman Roy Gori.
Adjusted EPS of C$0.78 (US$0.61) beat analysts' average estimate of C$0.76, but was down from C$0.83 a year ago.
NBV in the United States for the second quarter was C$92 million, compared to C$75 million a year ago. Canada's NBV increased to CA$82m from CA$76m in Q2 2021 and Asia's NBV fell to CA$337m from CA$399m in Q2 last year.
Total annualized premium equivalent sales were CA$1.41 billion in Q2, compared to CA$1.42 billion in Q2 2021.
Q2 book value of C$25.56 per share increased from C$24.76 a year ago.
Base return on common shareholders' equity was 12.1% in Q2 compared to 13.9% in Q2 2021.
Conference call on August 11 at 8:00 a.m. ET.
Previously, Manulife Financial declared a quarterly dividend of C$0.33 per share.