St John hopes CPR training will increase cardiac arrest survival rate
---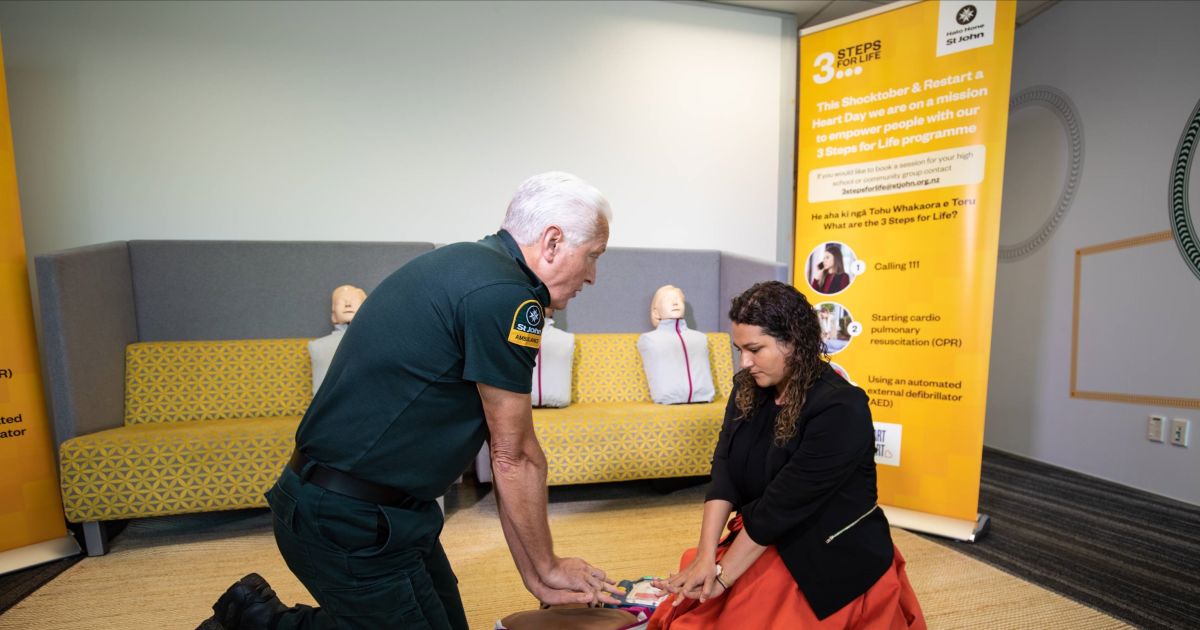 Hato Hone St John hopes to train 10,000 people across the country this month in CPR in a bid to increase the survival rate of those who have cardiac arrest.
Cardiac arrest is one of the leading causes of death in New Zealand with over 2000 people treated per year.
Only 11% – or one in 10 people who have a cardiac arrest – survive.
But Hato Hone St John says if more people knew how to perform CPR the survival rate could be improved.
Last October, the non-profit organization launched the 3 Steps for Life campaign, which aims to train 10,000 people across the country in interpreting cardiopulmonary resuscitation, known as CPR.
Jon Black, 41, had his first cardiac arrest in February.
It was just an ordinary evening when he started to feel bad.
"I went to get the ventilator and by the time I brought it back I ended up having this kind of chest pain and that's when I kind of sat on the edge bed.
"I was holding my chest a bit and there was a really weird, unfamiliar pain that I was feeling," Black said.
It didn't take long for the ambulance to arrive, he said.
"Once they hooked me up with everything and printed out the little reading and then calmly said 'yeah, you're kind of having a heart attack'. And obviously I panic.
"I still remember, I said a few swear words, I was like 'oh my God. I can't believe this is happening,'" Black said.
During October, Hato Hone St John will train 10,000 people across the country on how to respond to cardiac arrest and perform CPR while waiting for an ambulance.
Clinical director Dr Tony Smith said the chances of survival are dramatically improved when a patient receives early CPR and defibrillation.
"Only about 10% will survive, but we can double that 10% to about 20% in 3 simple steps: call 111, start CPR, and find the nearest AED or defibrillator."
The training can help relieve stress during an actual incident, Smith said.
"We recognize that when someone goes into cardiac arrest it can be very stressful, but the training is kept very simple.
"We teach: 30 to 2, it doesn't matter who. It's 30 compressions, 30 chest presses and two mouth punches. It sounds complicated but it's actually very easy."
Community educator Mia Noyes is one of the volunteers who will teach people how to save lives.
She recently had to perform CPR in a real incident and said people should always be prepared.
"I felt that adrenaline rush and that sense of urgency to help save someone's life.
"As soon as I got there I thought it would be a good idea to take a deep breath and prepare myself for what I'm about to step into."
For Jon Black, lending a hand in cases like this isn't just important, it could save lives.
"Having a cardiac arrest or a heart attack is not something you are going to plan for. If you have family members who can take first aid courses for example, it is definitely worth it.
"If someone were to go through what I went through, you know, if you have a family member or a friend that's with you who knows what they're doing, it could definitely save your life."
Anyone can book CPR training via [https://www.stjohn.org.nz/contact-us/other/three-steps-for-life-enquiry/
St John's website] or attend one of the group sessions that will be held across the country until the end of the month.